With Citizen Open Services, create citizen participation strategies that facilitate your work in relation to citizens, all through our platform based on Consul and our services.
Give visibility of your results to citizens
Through Citizen Open Services you can keep the citizen informed and participating.
Facilitate the management of citizen initiatives
Citizen Open Services is so versatile that it has allowed several cities around the world to implement hundreds of types of initiatives.
Avoid unnecessary workouts
There is no need to form a new team to operate the platform.
There are budget restrictions
Citizen Open Services does not represent excessive costs and can be flexible according to needs
Licensing can be expensive
Citizen Open Services is a SaaS model service that simplifies your hiring.
Increasing the team to manage initiatives can be a problem
By hiring Citizen I have results and control over the information.
How does Citizen Open Services work?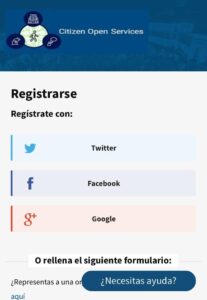 It is very simple, you can also do it through your social networks.
Once a proposal is presented, the rest of the people can support it. The institution has a moderation system to avoid, for example, that there is offensive content, spam, etc.
Participate in discussions
It allows unlimited discussions and comments. Comments are nested for better reading.
How can we accompany you?